Good Foot Guitar Footrest
---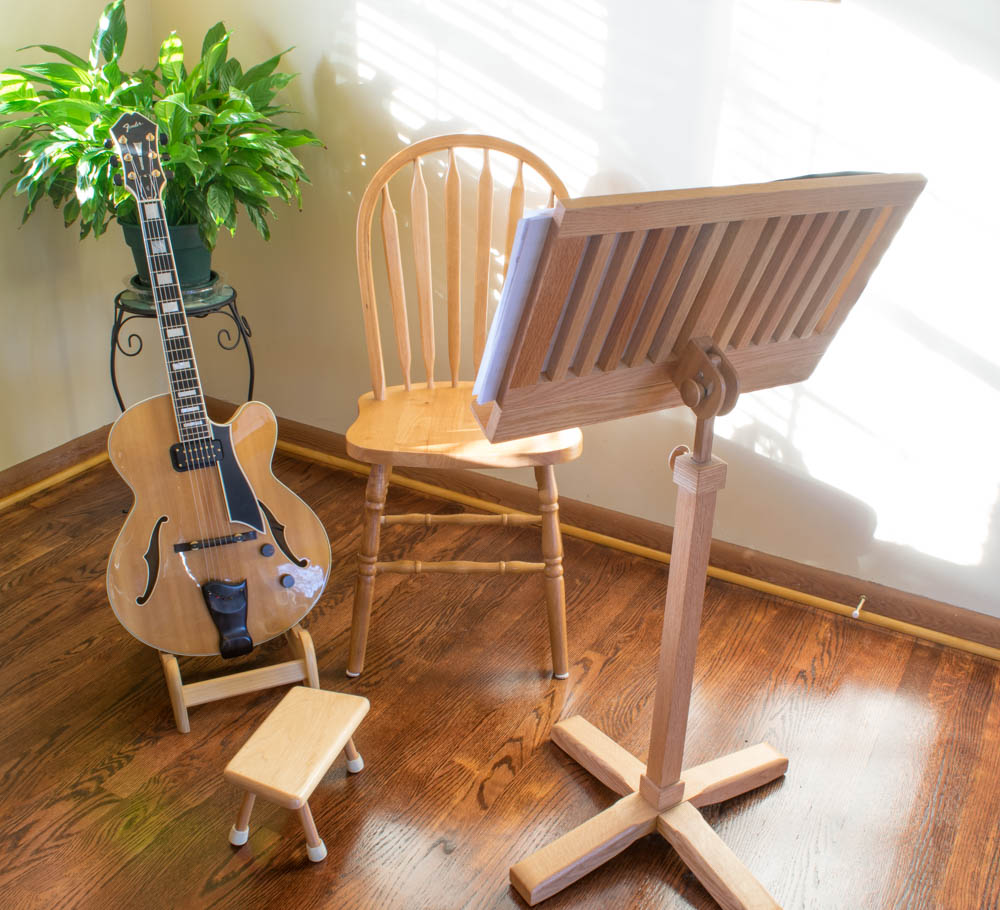 ---
The Good Foot guitar footrest is a furniture-quality, handmade wooden stool for your right or left foot. It is designed to elevate your guitar to a comfortable playing position while you are sitting. It comes in low, medium, high or custom heights. The foot rest area is large enough (12 x 5.5 inches) to be comfortable and it is designed so it will not tip over easily. It is constructed of solid wood and comes with a natural hand rubbed polyurethane finish. The legs of the stools are capped with rubber end caps to prevent sliding and marring of floors.
Ordering options include:
Left or Right Foot
Woods: Poplar, Red Oak, or Black Walnut
Rubber End Caps: White or Black
Heights: Low, Medium, High or Custom (your specifications which you can give at check out if you select custom)
If you are using a 3-notch traditional adjustable metal footstool the measurements are:
First notch or Low setting is toe 6" heel 5" (stock height)
Second notch or Medium setting is toe 8" heel 6"
Third notch or High setting is toe 9.5" heel 7"
Custom orders are accepted. (If you are looking for a different exotic hardwood please email for price and availability)
Questions? Email me
Photos:
Poplar right foot-low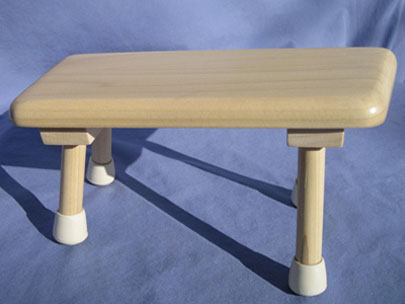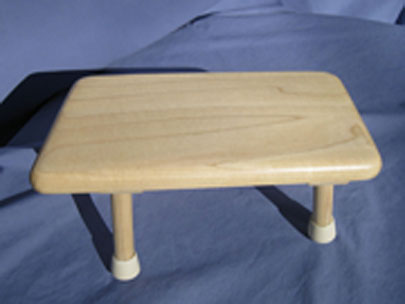 Red Oak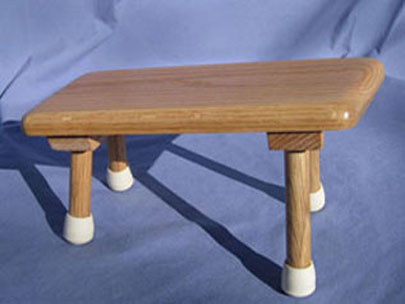 Black Walnut with Oak Legs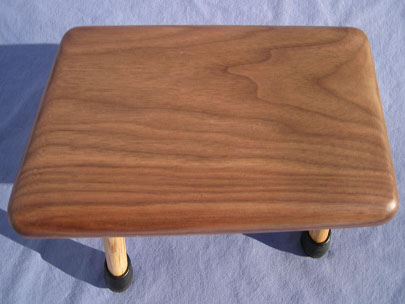 What users are saying:
Cindy Egger - Kansas City, Missouri Classical Guitarist: "there are 2 things I really love about this footstool: 1) I love the width - feels way more secure than the narrower metal ones; 2) I love the look - it has a retro vibe to it with the shape and the choice of wood and the white things that keep it from sliding."




Beau Bledsoe - Kansas City, Missouri Classical/Flamenco Guitarist: " I love it. I've actually really been needing something like this for around the house."




John Stewart - Columbia,MO - Jazz Guitarist and owner of John G. Stewart's Fine Guitars: " I use my Good Foot everyday."




Deborah Hartley - Shelton Washington: " Great Product! Thanks."




Joseph Backenstoe - Palmdale California: "Finally!!! - Somebody makes a durable, affordable footsool. I have broken others during live performances. Thanks! Joe




Dan Humphries - Glen Burnie, Maryland: "It's here and it works fantastic! Thank you."




Apple Gunther - Lake Forest, Illinois: "It arrived on Thursday and it's perfect. Thanks."

Armando Baltra - Rancho Mirage, California: "It looks great. Thanks."




Dana Clickenger - Buhl, Idaho: "Thanks Michael. I got it and it works great. It is nice to have a stool that doesn't tip over readily. A neat thing about this is that you can move your foot up or back to change positions, higher or lower.




Kurt Troutman - Muskegon, Michigan: "I received the footstool on Saturday...thank you it looks great. I like the feel of a full foot rest."




Charles Pengilly - Missoula, Montana: "It's here, and it looks better than the pictures. Really nice--thanks."




Barbara Hendricks - Grand Rapids, Michigan: "The guitar teachers at Academy of Music in Grand Rapids are looking forward to using your
footrest!"

Char Stollmayer - El Segundo, California: "I love it. Wow. it's even more beautiful in person. You're very talented. Made in the USA by an American. I love it."




Richard Pepin - Long Beach, California: "Hey Michael, Got the footrest monday, giving it constant use! It's a great, simple design, and stays put even on tile floors."




Frequently asked questions:




"What is the difference between the left and right foot model?"

Answer: On the foot plate the front edge is angled slightly back from the toe side as a shoe typically would. This is merely an aesethic feature. The stools can be used with either foot.

"Are the foot stools adjustable?"

Answer: No. They are made with a fixed height. I found that with adjustable stools I always used the same height. So a fixed personalized height made the most sense for a home furnishing. Plus they are more stable.

"Are they collapslble for travel?"

Answer: No. They were conceived as a home, stage or studio furnishing. They are small enough to carry to a gig but they will not fold flat to put in a pocket on your gigbag .

"What is the cost of shipping and handling?"

Answer: Shipping and handling is a flat fee of $12.50 for one footrest which covers materials and USPS to the continental US . This amount will be added at check out.. If you order more than one footrest please add $6 per extra footrest.

"Is there an extra charge for initial custom height adjustment?"

Answer: No. It is included in the price.

"Will you ship outside of the Continental US?"

Answer: Yes. Email your shipping info and I will invoice you the cost (minus the US shipping cost if you have already placed your order) .

Orders are shipped within 2 days after placing you order unless otherwise notified

Your satisfacttion is guaranteed. If yor are not happy with your footrest simply notify me

by email. Ship it back and upon receipt I will refund your money less original shipping cost.

CUSTOM ORDERS ARE NOT ELIGIBLE FOR RETURN

Poplar for right foot and Walnut for both feet temporarily out of stock. Sept 2017 with the introduction of the new Unifoot design there will be a price increase. Also at that time I will drop the hard maple footrest after the depletion of inventory.